CONFERENCES AND INTERVENTIONS
We speak at conferences several times a year.
Our know-how is to offer you a relevant and operational analysis each time you ask us. Our studies and research are always oriented with a customer point of view to answer your problems. We specialize in Data Strategy, Marketing and Innovation in the field of Management and Tourism.
But some days, we don't refrain from doing a little communication or organizing events to clear our minds.
The Alps agency accompanies throughout the year a good number of territories in their strategies or their reflections that make the difference. Do you want to know our references? Contact us
You want to organize a conference on a specific theme, contact us too, we will analyze your needs together.
You can read all the articles of the Alps Agency in the Blog section and discover all the services we can offer you.
France Greece International Forum
The very positive dynamic present in the strong relations between Greece and France, the mutual desire to further strengthen bilateral relations, and the interest of French companies in investing in our country, were confirmed during the 2nd Franco-Hellenic Forum of business-investments organized in Paris by the France-Greece Chamber of Commerce and Industry and the Greek government, with the participation of 5 ministers, 2 deputy ministers and 2 general secretaries.
Throughout the forum, the bilateral cooperation network was developed, new investment opportunities and prospects offered by Greece to French companies were highlighted, and further economic and commercial cooperation between the two countries in a a large number of critical areas has been explored, such as energy with a focus on renewable energies, infrastructure, transport, digitization of the economy, new technologies, tourism, maritime transport, defense and security.
Olivier BECHT, the French Minister Delegate for Foreign Trade, sent a clear message to French companies: this is the right time to invest in Greece and there are "very good investment opportunities in our country". Mapping the investment landscape in Greece, the French vice-minister spoke about the sectors of infrastructure, tourism, environment, power grids, technology, with a focus on digital, and transport. Likewise, he sent a message to Greek companies to invest in France, saying that there are very good investment opportunities.
As part of the conference, picking up the thread of the first Forum held in 2020, the actions and collaborations that have taken place over the past two years between Greek and French companies in the respective sectors were presented.
The Forum brought together more than 300 participants, with Greek entrepreneurship being represented by 50 Greek companies and French entrepreneurship by representatives of more than 150 French companies, organizations, local chambers, associations and associations.
MOUNTAIN CLUSTER ROUND TABLE: WHAT TRENDS FOR TOMORROW?
As the title suggests, the Alps Agency has been a member of the Cluster Montagne since its creation. Project catalyst, business network and development accelerator, it is an essential place of exchange when you want to talk about the Mountain with those who develop it.
François Veauleger was invited by the Cluster teams to write in the trend book #2 released in early January 2021 on the theme of accessibility, more particularly mobility. It is a complex subject but also a major axis in the mountains which has always been perceived by many civilizations as an obstacle.
In order for this new trend book to be a success, the Mountain Cluster organized an online broadcast at the beginning of December 2020 to announce the upcoming launch of this guide and respond in a round table to the general question: What trends tomorrow?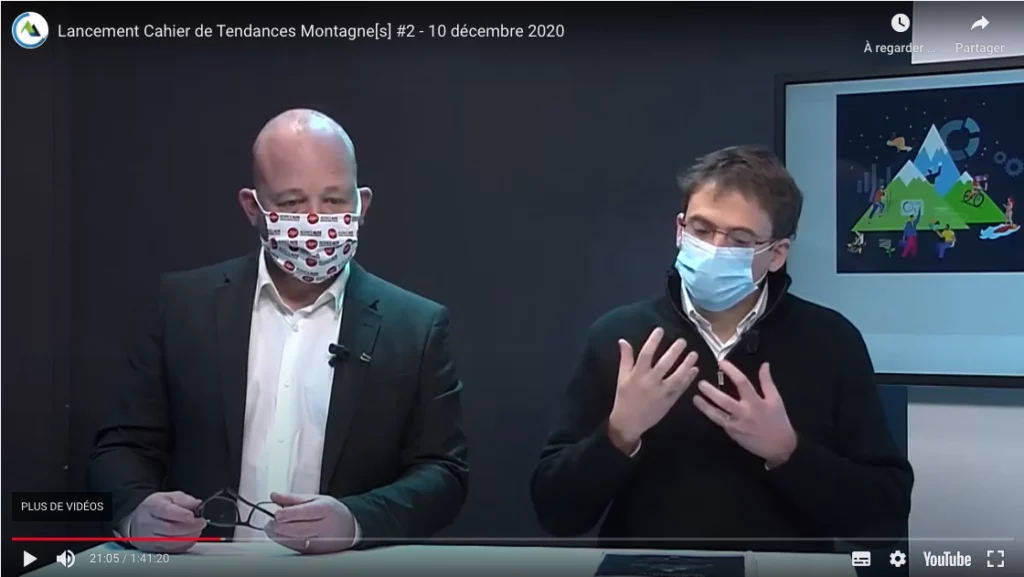 As part of this launch program, many issues of concern for the mountains of tomorrow were raised by the actors of the territory and those of mountain development. Mobility was one of them. And despite a currently complex situation, no one gives up, it's precisely the time to be imaginative and visionary to get up and move forward even more.
We invite you to watch the video of this program where François Veauleger had the pleasure of discussing with Vincent Delaitre, then Director of Isère Attractivity and Thibault Daudigeos, Professor and coordinator of the Territories in Transition Chair at Grenoble Ecole de Management .
Create tourism value with data to re-develop its activity and its destination after the crisis
THE CONFINED CONF'
"Creating tourism value with data to re-develop its activity and its destination after the crisis" which took place on Monday April 20, 2020.
An animated webinar that François Veauleger had the honor of co-hosting with Jean-Patrick Mancini. We also wanted to illustrate our remarks by inviting two witnesses to this webinar to come and give us feedback on what they are doing on their territory: Etoile Montagnier, then at the Estérel Côte d'Azur Agency and Caroline Dantrègue , in Verbier (Switzerland)
§ The influence of data in Tourism
§ And in times of crisis?
§ How to create value with tourism data?
§ How could this be useful after a crisis?
Do not hesitate to visit the FR-OT Sud website to see all that they offer throughout the year.